« Back to latest posts
Orange County Housing Market Update - A SLIGHT Seller's Market | September 2022
Sep 19, 2022
The Expected Market Time (the time between hammering in the FOR-SALE sign to opening escrow) reveals the true speed of the market and is based on supply and demand, the number of available homes to purchase, and the number of buyers in the marketplace writing offers.
The inventory is at 3,726 today, not quite as low as last year's 2,289 homes, the lowest start to September since tracking began 18 years ago, but well off averages prior to COVID. The 3-year average (2017 to 2019) was 6,569, a mind-blowing 76% higher, or 2,843 more than today. And the inventory peaked at the start of August and will now drop for the rest of the year.
Demand (last 30-days of pending sales activity) is at 1,831, the lowest level to start September since 2007 and 32% less than last year. There were 851 additional pending sales last year. Current demand is off by 25% compared to the 3-year average prior to COVID of 2,438. Much higher rates have definitely impacted demand.
ORANGE COUNTY EXPECTED MARKET TIME | YEAR-OVER-YEAR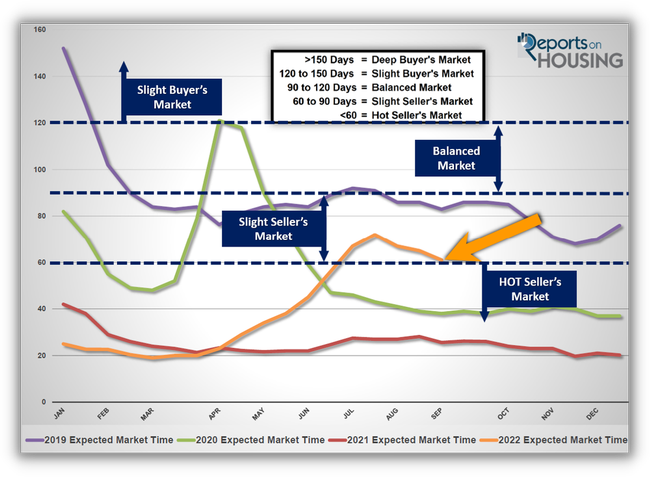 In pairing low supply with low demand, the Orange County housing market lines up slightly in favor of sellers.
The Expected Market Time is at 61 days, a Slight Seller's Market (between 60 and 90 days). It has actually improved since the end of July when it was at 72 days.
Yet, it is much slower than the 19-day level reached at the beginning of March.
From August of 2020 to June of this year, the market was an INSANE Hot Seller's Market with an Expected Market Time below 40 days. At those levels, buyers lined up around the block just to see a home. There were very few open houses because homes sold too quickly. "Multiple Offers" was an understatement; instead, homes were procuring 20, 30, or even more offers to purchase. Appraisal contingencies were dropped. Many buyers opted to waive their inspection rights and would ask for no repairs. Sellers were able to rent back their homes for free while they took their time moving out. Homes sold way over their asking prices and home values were rocketing higher. Basically, sellers were able to run the table, and call all the shots.
Those days are gone. A Slight Seller's Market means a seller must carefully arrive at the asking price, considering the home's condition, upgrades, amenities, location, and overall appeal.
Homes that are nicely appointed, in excellent condition, have that model home feel, and are priced according to their Fair Market Value, will still obtain a lot of attention, pull in multiple offers, and, in many cases, sell above the asking price.
For everyone else, the further a home is away from being turnkey, in great condition, or in a great location, the longer the home is going to take to sell.
Sellers need to pack their patience. The market is no longer instant. As a result, more and more homes are sitting on the market.
Not surprisingly, 60% of all homes available to purchase today have been on the market for more than a month. Back in June, it was at 36%. Nearly a third, 31%, of the inventory has been on the market for more than two months and is still waiting for the right buyer to bring an acceptable offer to purchase. That is a lot of sitting and waiting considering 36% of the active listing market has come on within the last 30-days.
Of course, everyone expects sellers in the luxury ranges to play the waiting game; however, many sellers in the most affordable price ranges are sitting on the market and waiting as well.
Below $750,000, it is 24% of the market that has been on the market for more than two months.
Between $750,000 and $1 million, it is 28% of the market. From there, the share of sellers who have been waiting to find success grows, from 30% to 62%.
The market has undeniably evolved from warp speed, out of control, to a much more normal pace. However, nobody is used to normal:
It is when buyers and sellers must negotiate a contract prior to opening escrow.
Sellers do not call all the shots. There is no more waiving the appraisal or inspections.
Sellers do not have the opportunity to rent their homes back from buyers after the closing for FREE.
For the most part, homes are not selling over their asking prices. The froth of the past two years is gone. It is a Slight Seller's Market.